Clement Vedanayagam is a music evangelist who is largely recognized in the Indian Tamil Christian population and the world over. Born on 22nd August 1970 to Durairaj Vedanayagam Sastriar and Mrs. Susila Vedanayagam in Chennai, he had a fine and happy upbringing as he was the last in the family. He started his school education in the Anita Methodist School of Balar Kalvi Nilayam and continued his high school education in Madras Christian School, Chetpet and in St. Mathias Higher Secondary School, Vepery. Later he pursued his Bachelor's Degree in Commerce in Madras Christian College, Tambaram.
His interest in violin grew from a very early age and at the age of 12 he was tutored for violin by Mr. Durairaj of Madurai, Mr. Chinna Samuel and Mr. Sathy Victor of Chennai. Soon he accompanied his father in the Lord's ministry to play the violin and this helped him to expand adequate confidence and experience in playing the violin for the songs of his forefather Venerable Vedanayaga Sastriar. Besides, this training helped him in God's ministry in the later years.
His life in college introduced him to Western Music and soon his interest swung from Tamil classical music to Western music. This rapidly growing interest motivated him to learn to play the guitar and subsequently he was into every musical festival that was held in his college. His attachment to music was so intense that soon it affected his attentiveness to his studies. But still by the immense grace of God he was able to successfully complete his Bachelor's Degree in Commerce.
When he was in his 20s some of his friends who were interested in western music got together and formed a rock band called 'BURN' which performed successfully in various stages in India. This band lasted for about 6 years but soon its fiery fervor was dying and it got disbanded due to the diverse priorities of the other members of the troupe. This eventually brought him to a spot of almost giving up his music career.
But deep in his heart some sparks of passion for music was still ablaze and so he focused on western classical and joined the Madras Guitar String Ensemble. He played the viola and the violin for this orchestra in various places. Further his ardor for western classical urged him to try his hands on South Indian Classical Music and hence pursued his training for a short span of time under the guidance of Parur Venkataraman. Although one cannot see Clement as an accomplished Carnatic violinist, one can feel and experience the flair of that music in his orchestration where he brings together both the South Indian Carnatic Music and the Western Music.
Soon on 15th December 1996 he was consecrated as 'Sastriar', to do God's ministry and this paved a way for him to visit various countries. It was a routine for him to play the violin before the start of any musical discourse in order to check the sound and effect of the Public Address System. Many who heard him play at such times encouraged him to do an exclusive instrumental album and soon this materialized in the year 2001 under the title 'Tuning with Clement' which became the best seller not only in Tamil Nadu but the world over. This success instigated more confidence in him and soon a series of seven albums came one after the other. The 7th album, the recent one is an unplugged album entitled, 'Clement Unplugged'. Whenever he ventured to release a new album he was very particular in fashioning it in a unique style and technique. In some of his albums, for the sake of satisfying some of his listeners he has even slightly deviated from his original style, giving it a commercial touch in order to cater to a larger audience. Though the series 'Tuning with Clement' was a successful one for his part he felt that in some way he was doing injustice to his music and so in order to recompense 'Clement Unplugged' was born in June 2012. The birth of this album had to go through a lot of struggles. Initially he could not find a studio in Chennai that had a provision for recording the piano and a good sound engineer who could record the music of the piano. Whenever he made an enquiry regarding this some of his friends would ask, 'Why piano?' The comments and suggestions of some musicians who could not comprehend the worth of pure music greatly discouraged him. Nonetheless his friend Mr. Ruban continued to encourage him to go ahead with the album. Finally instead of a studio the recording of the piano had to be arranged in a music school auditorium which was not treated.
Three pianists played for this album and soon the recording for the drums and other instruments eventually followed. Thanks to the modernization of technology because many artists were outside India and so the music had to be recorded in the studios outside India and later they were sent in the form of music tracks to be integrated for a wholesome product.
It must be mentioned that Mr. Ruban was of a great help since he too had a passion for pure music. One morning he called Clement over the phone to discuss the song, 'Yellaam Yesuvae'. The plan was to have a choir to back up the melody of the song which would be played on the violin and saxophone simultaneously. Soon the rough track was prepared and was sent to Clement for him to deliberate on that. Even when he heard it the first time he knew that it was something out of the world and wondered how one could come up with such a brilliant score. Ironically Ruban was unaware of the standard of his composition but when the choir heard it they felt that it was a pretty challenging one and needed a lot of practice before actually recording it. Mr. Ruban has also contributed his expertise and skill for a few more songs in this album. Every musician who was a part of this album made a special mention of this music during the time of recording.
It is not an easy task to record music in a studio with all the musicians at one time. As the album was being recorded, new ideas poured in and so then and there alterations, omissions and additions were made. The frequent power cut in Chennai was the last straw and some active musicians could not squeeze in this recording into their already busy schedule.
Above all the expenses for this album was going overboard. When he discussed this difficulty with his close friend Mr. Daniel in New York, he and his wife Esther came forward to co-sponsor the album and for Clement this was like getting coal during snow.
In a time when music is misused to negatively influence the moral consciences of people everywhere, exposing his limited audience to more of these natural musical experiences is Clement's desire in the future. He also believes that it will serve as a bridge to let people of diverse cultures and beliefs to cross and get together for an international understanding of music. Please do enjoy listening to 'Clement Unplugged' and keep us posted with constructive and practical feedbacks.
New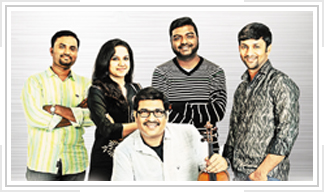 Namo
Keerthanai Explained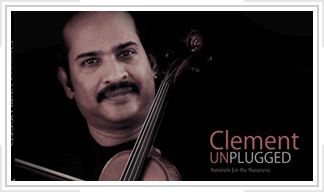 Clement Unplugged
Naturals For The Nazarene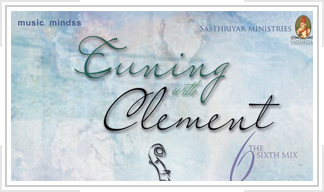 Tuning With Clement 6
The Sixth Mix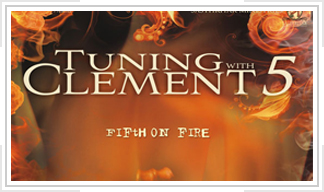 Tuning With Clement 5
Fifth On Fire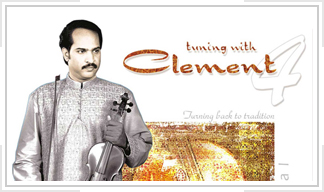 Tuning With Clement 4
Turning Back To Tradition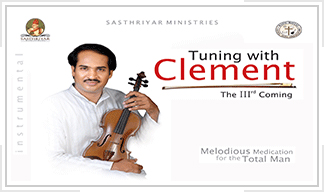 Tuning With Clement 3
Melodious Medication For The Total Man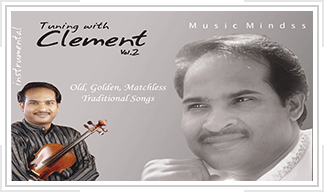 Tuning With Clement 2
Old, Golden, Matchless Traditional Songs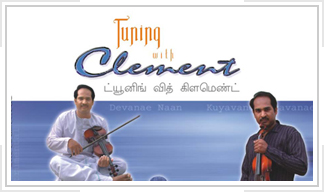 Tuning With Clement 1
Violin Instrumental
Reach Us
Knock At
Address

#54 Water Canal Road, 404 Palm Block,
Orchid Springs, Korattur, Chennai - 600076.

Phone

+91 9840 075 810

Email